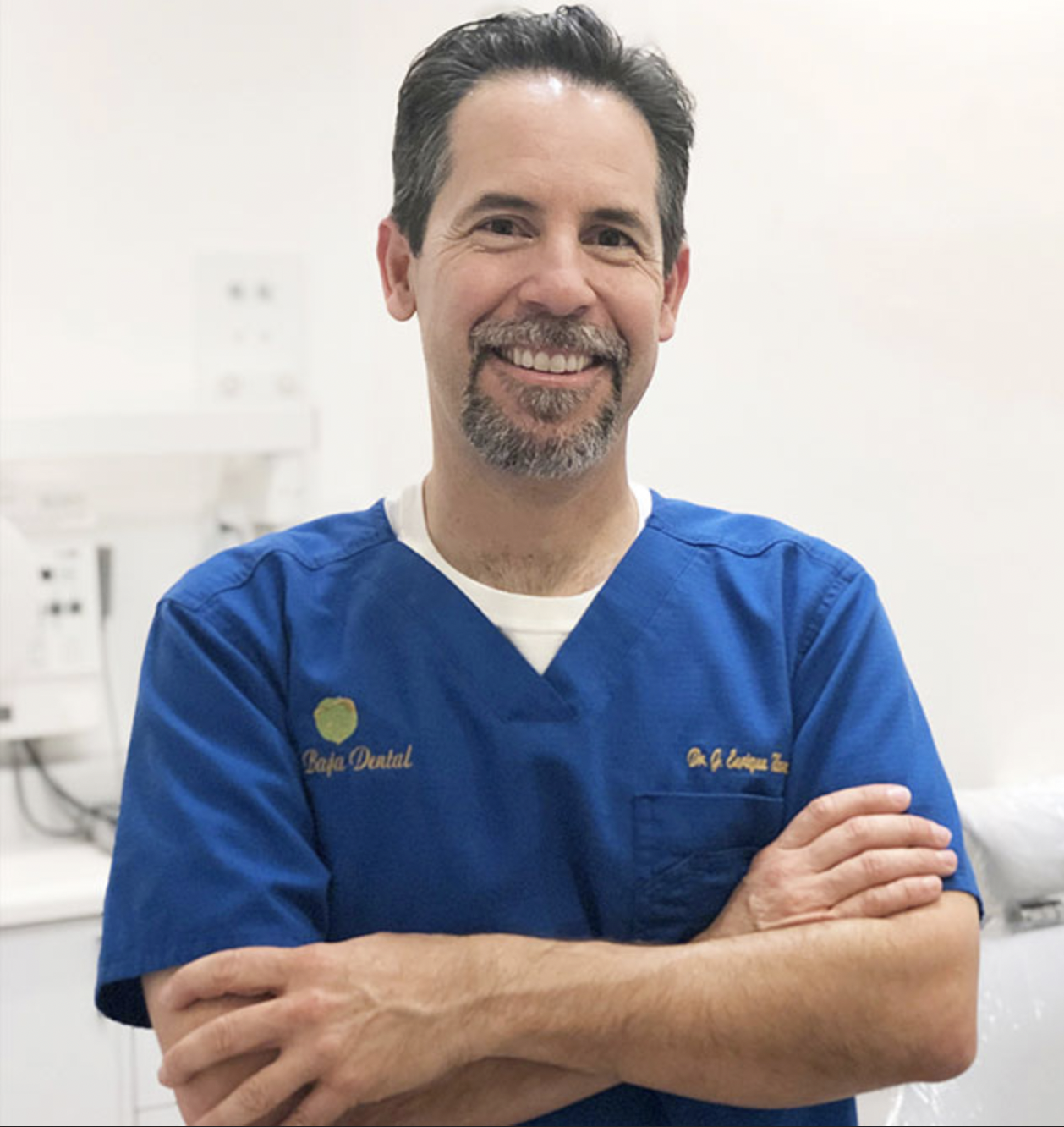 Porcelain Crowns in Tijuana, Mexico

Dental crowns are used to restore and provide structural support for decayed and damaged teeth. A dental crown is a small cap that fits over the visible portion of a tooth. Crowns can be made of a variety of materials, including porcelain, ceramic, metal, composite resin, or a combination. Dental crowns are customized for an exact fit and color-matched to the surrounding teeth, so they look and feel natural.
Porcelain crowns have come a long way. The same way as dental fillings have. This type of crowns have been available for decades, and are still the most common type of crowns around the world.
Metal free crowns, are an excellent choice, they are mostly used for anterior teeth because of cosmetic purposes. E max crowns (all porcelain) have a certain "translucency" that imitates the same type of translucency of a natural tooth, without having to deal with the greyish "hue" that porcelain fused to metal (PFM) crowns often create between gum and crown.
What types of dental crowns do we offer at My Baja Dental, Tijuana?
At My Baja Dental, we offer three different types of dental crowns, including:
Porcelain fused to metal (PFM) crowns
The most common type of crowns used today, where the metal part of the crown is covered by porcelain. They are a good choice for back teeth (molars). PFMs provide strength and durability, and the porcelain adds an aesthetic quality.
Zirconia crowns
Created from zirconium, a strong and aesthetically pleasing material. Zirconia crowns are strong, long-lasting, and translucent. They reflect and absorb light in a similar manner to natural teeth.
Emax crowns
made from lithium disilicate, a light and thin all-ceramic material. Emax crowns are durable, strong, and aesthetically pleasing.
All the crowns we offer are made of the highest quality materials. The best type of dental crown may be different from one situation to the other, depending on the location of the treated tooth and other factors, including patient preference.
What is the dental crown procedure in Tijuana?
The dental crown procedure requires at least two visits to the dental office. In some cases, additional procedures may be necessary, which may require additional visits. In general, however, a standard dental crown procedure involves two visits.
Day 1:
During the first visit, the dentist will first make you comfortable and provide you with anesthetics to numb the tooth and the area around it.  The tooth will then be filed down and reshaped to ensure that the dental crown can be placed without disturbing your other teeth, changing your bite, or causing you any discomfort. An impression will then be made of your tooth and its upper or lower companion so the lab can customize your new dental crown for a perfect fit.  The dentist will then place a temporary crown for you to wear while the lab fabricates your permanent one.
Day 2:
The second visit will be scheduled once the lab has completed your permanent crown. When you return to the office, you'll be made comfortable with anesthetics again, and the temporary crown will be removed. The dentist will then place your permanent crown and send you home with a natural-looking, fully functional tooth.
How much do dental crowns cost in Mexico?
Dental crowns in Mexico are significantly less expensive than in the United States, but you still get the same high-quality materials, and the same great results.  In the U.S. dental crowns cost $1000-$3000 per tooth. At My Baja Dental, we offer the following prices on our dental crowns:
Zirconia crowns cost
$550
Frequently asked questions
How long will it take to get a dental crown?
The first day of the dental crown process takes approximately 60 to 90 minutes to prepare the tooth, create the impression, and place the temporary crown.  If you need additional procedures to prepare your teeth for the crown, more time may be needed. The second day of the dental crown process usually takes around 30 minutes to remove the temporary crown and place the permanent one.
Can't I just have a filling instead of a dental crown?
A reputable dentist will always opt for a filling first if it is sufficient for restoring your tooth to full function. If your dentist recommends a crown, chances are you really do need one. Sometimes, it is just a small cavity in your tooth, but if it's the third or fourth cavity, your tooth structure may be too weakened.  A weak tooth is more likely to break, which could result in the need for extraction.  A dental crown is meant to help save as much of the tooth as possible.
How do I take care of my temporary dental crown?
Temporary crowns are not made to last as long as permanent crowns. While you're waiting for your permanent crown, you'll need to be aware of this and take extra precautions with your temporary crown. Avoid eating hard, sticky, or chewy foods, and be sure to brush and floss around your temporary crown with care.
How long do dental crowns last?
Depending on the materials used, how well you take care of your teeth, and your overall health, dental crowns can last 5-15 years, or even longer.
Are there alternatives to dental crowns?
In some cases, dental inlays, onlays, or veneers can be used to help provide structural support to a cracked tooth. Typically, these are only used when the damage is in the enamel only. They can also only be used on the front or back surface of the tooth. They are mainly used for improving the aesthetics of the tooth, so most dentists wouldn't actually consider them an alternative to dental crowns.
Before and After Dental Crowns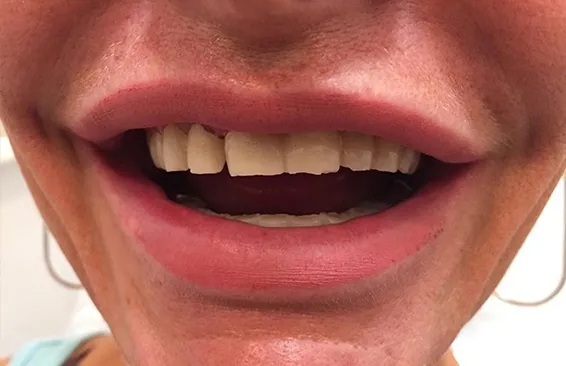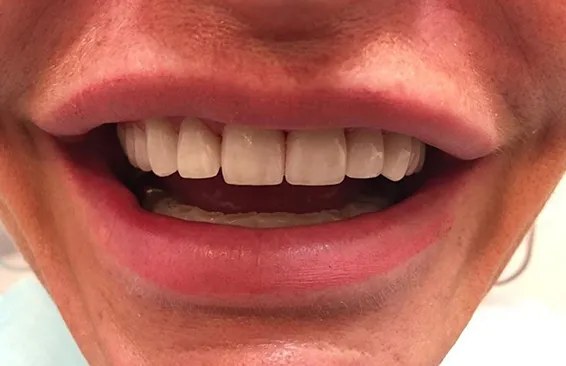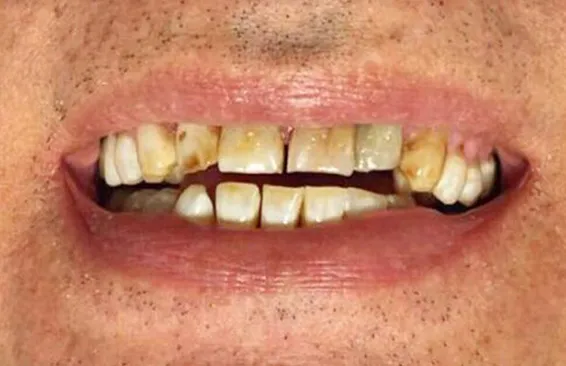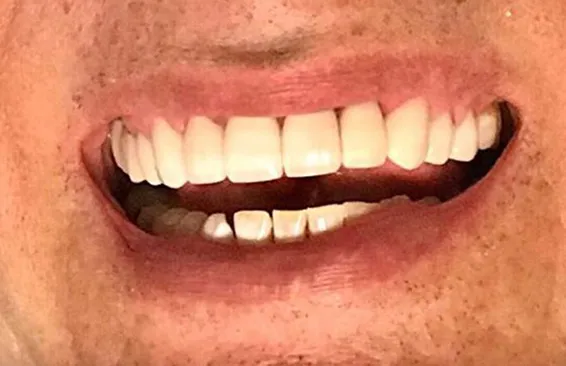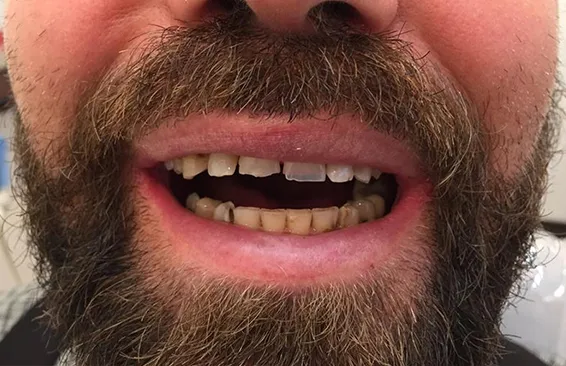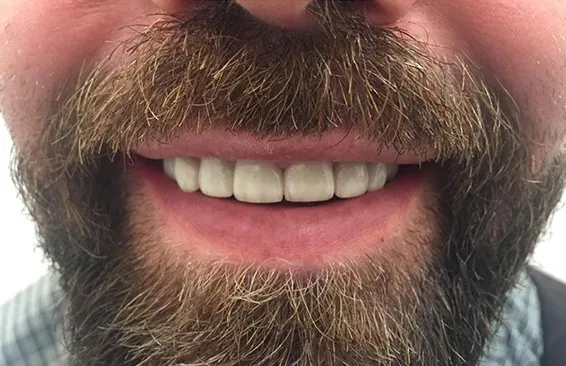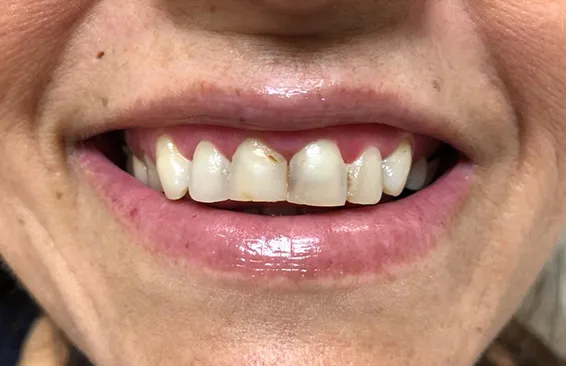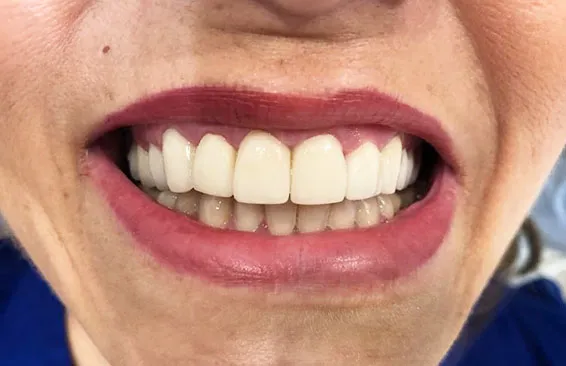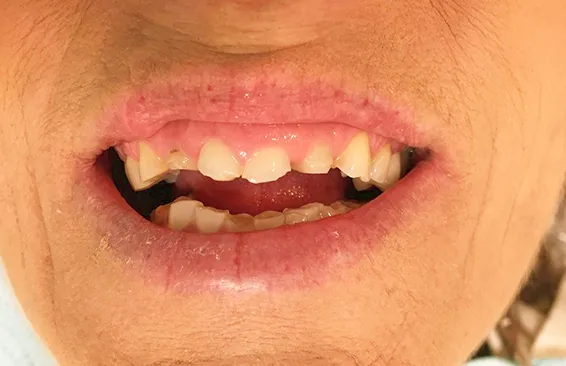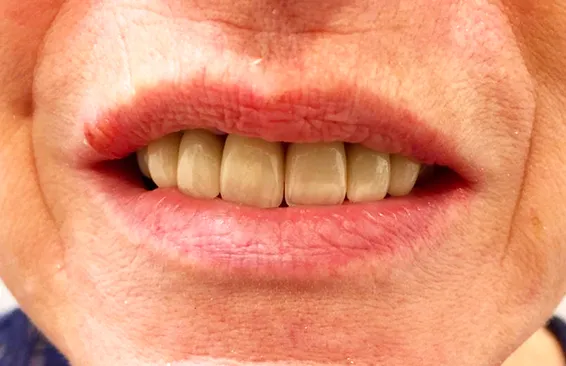 Disclaimer: Pictures were taken immediately after placing crowns. It might take a few days for the gums to get back to normal, due to inflammation from the temporary crowns.
Afraid of Dentists ,Doc Hernandez is the best .Very clean very safe very reasonable very painless hadn't been too dentist in 30 years major work done 2/3 the price of U.S.
Dr. Hernandez was great. The free transportation was also much appreciated. He went above and beyond helping get great looking teeth and mapped out a treatment plan that is very cost effective. He is also very personable and friendly. I will definitely be going back.
Great service and great prices. Will go back every time I am in TJ
I'd like to thank Dr. Hernandez and his friendly professional staff for all the care and detail they put Into my dental procedures. Starting with the first visit all questions and concerns were addressed and procedures (Including options) were explained thoroughly, I highly recommend Dr. Hernandez along with the entire staff of My Baja Dental. They have allowed me to smile confidently again.
Cate Jaynie McNabb Barrett
2020-01-06
If I could give 100 stars ⭐️⭐️⭐️⭐️⭐️ for excellence in care, procedures, friendliness those 100 stars would not be enough. It is the best of the best with Dr. Enrichque Hernandez & his staff. 💯
Dr. Enrique and all My Baja Dental staff are amazing and very kind. Dr. Enrique explained all the procedure in detail and answer all my doubts. The facilities are top-notch and very clean! Definitely would recommend!!!