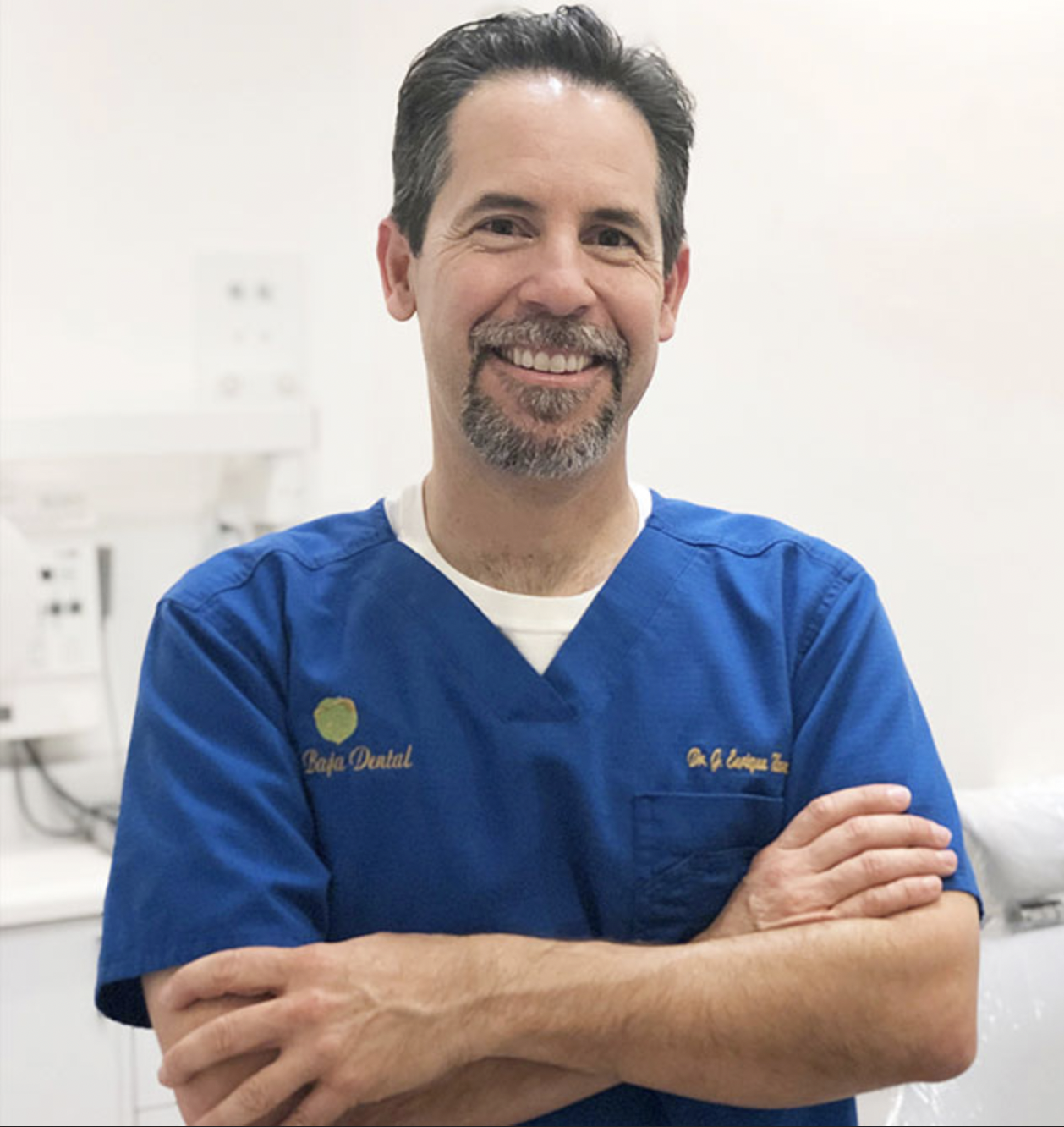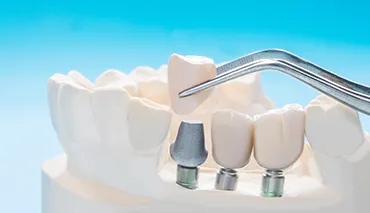 Dental Implants in Tijuana, Mexico

A dental implant is a small, titanium screw that is placed in the upper or lower bone jaw where a tooth is missing.
Dental implants are an excellent solution for most patients who are missing one or more teeth. Most of the time, only local anesthesia is needed and the procedure, done by a highly skilled dentist, can take but less than an hour from start to finish to be placed.
We work exclusively with Straumann dental implants and BioHorizon dental implants, both top of the line worldwide.
IMPLANT COST: $1950 dollars
*Includes dental implant, abutment and zirconia crown.
How many visits do I need to get a dental implant?
Dental implants are placed in as little as one hour from start to finish, and one or more can be done in a single visit. However, sometimes, depending on the case, they might require an average of 3 dental visits to complete the procedure; once the implant or implants are placed, bone has to "grow" around the dental implant before the abutment and porcelain crown can be placed, and this can take about 4 months. On the second visit, a post like screw called "abutment" is placed. On the third visit, a few days later, the dental crown, which holds on to the abutment is cemented. On the first appointment, when the actual dental implant is placed, the total amount to be paid is usually $950 dollars.
On the second appointment, 4 months after the implant is placed, $200 is due.  A few weeks later, the abutment is placed ($350 dollars), and a week later, final payment of $450 is due for the porcelain crown. Bringing the total to $1950 dlls, from start to finish.
Why get dental implants in Tijuana?
Dental implants are the most attractive, most comfortable, and healthiest tooth replacement solution available. Unfortunately, the high cost of dental implants in the U.S. can make them seem unattainable. Many people end up sacrificing the aesthetics and comfort of dental implants for cheaper dental restoration options, and some even put off replacing their teeth altogether. But it is possible to get affordable dental implants…in Mexico. 
When you come to Tijuana for your dental implants, you'll pay a fraction of what you'd pay in the U.S. At My Baja Dental, we use the same high quality materials and provide exceptional dental services.  If you're looking for affordable dental implants in Tijuana, schedule a consultation today. My Baja Dental is just 20 minutes from downtown San Diego. We offer free transportation as well as a number of other amenities to help make your experience as comfortable as possible.
When are dental implants needed?
The best way to determine whether or not dental implants are the best tooth replacement option for you is to schedule a consultation with a dental implant specialist. But there are some common signs that may point to the need for dental implants. These include:
You have one or more missing teeth
You have an infected tooth that needs to be extracted
You have a broken or severely cracked tooth
You have difficulty chewing because of missing or loose teeth
Your dentures are diminishing your confidence and self-esteem
Your dentures or bridges are no longer suited to your lifestyle
Your dentures have become loose
Your face shape is changing because your jaw is beginning to atrophy
Dental implants can do so much more than replace missing teeth.
They can also help strengthen your jawbone, maintain your natural facial structure, and restore your confidence and quality of life.
What is a dental implant (anatomy)
A dental implant is a replacement tooth. Unlike other tooth replacement options which replace only the crown of the tooth, a dental implant replaces all parts of the tooth, from root to crown. The parts of a dental implant and their purpose are as follows: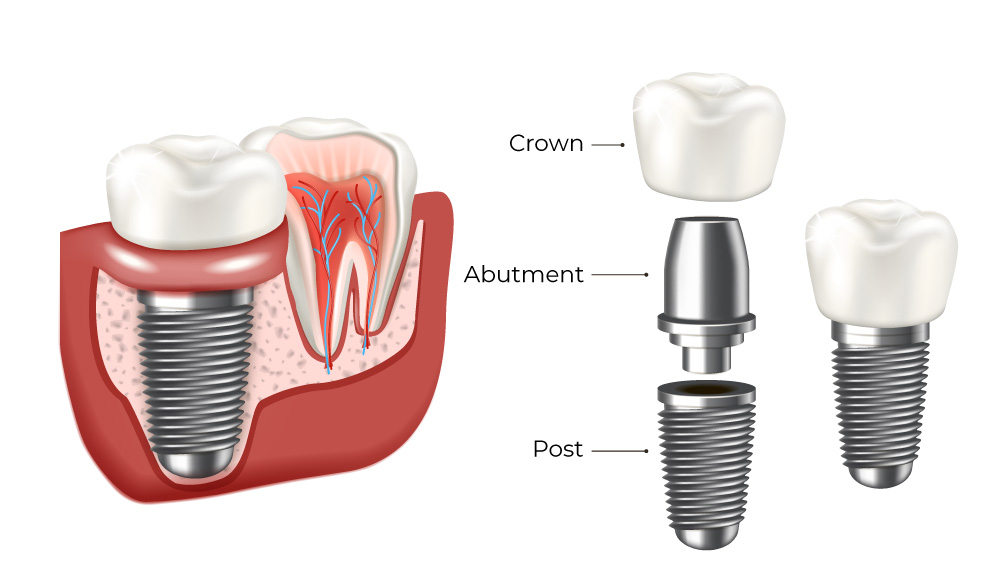 Implant post

– The implant post is the screw that's surgically inserted into the jaw. Over time, it will fuse to the jawbone, promoting bone health and providing a strong foundation for chewing and biting. 

Implant abutment

– The abutment is a small connector part that's used to connect the implant post to the prosthetic tooth. 

Implant crown

– The crown is the prosthetic tooth that provides a chewing surface as well as the natural-looking aesthetics that makes dental implants one of the most popular tooth replacement options. 
Each part of the dental implant comes in a range of sizes, allowing for full customization of each tooth .
Different types of implants
Dental implants can be used to replace a single missing tooth or a whole mouth of missing teeth. The exact procedure used will depend on how many teeth you need replaced, and where they are in your mouth. The different types of implants include:
Single dental implant
If you need to replace a single missing tooth, or just a couple of missing teeth in different locations around your mouth, single dental implants are usually the best option. Single implants involve one titanium post, one abutment and one crown per missing tooth.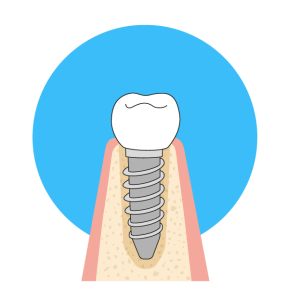 Full mouth implants
If you need to replace multiple missing teeth, it would be exorbitantly expensive and require multiple surgeries to replace every single tooth with an implant. Fortunately, there are more affordable options that allow you to restore a full smile with dental implants—without the need for multiple surgeries.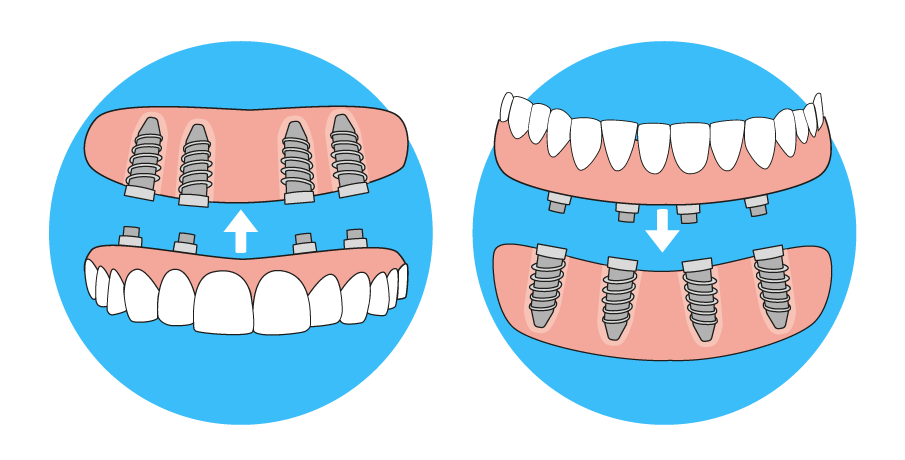 All-on-4 implants
The All-on-4 dental implant procedure involves the precise placement of 4 dental implants in each jaw. The implants are affixed to a full arch of replacement teeth, allowing you to replace all your teeth without using a single implant for each one.
All-on-5 implants
All-on-5 involves the same procedure as the All-on-4, but includes a fifth implant. Each additional implant provides even more support and stability as well as further reinforcement of the jawbone and maxilla and/or jawbone
All-on-6 implants
All-on-6 implants use 6 implants to anchor the replacement teeth and strengthen the jawbone.
One of the great benefits of the All-on-4/5/6 method is that the procedure can be done in a single day.
Dental Implant Cost in Mexico (in USD)
ALL DENTAL IMPLANTS ARE COMPUTER DESIGNED AND GUIDED, INCLUDING ALL ASPECTS OF LAB WORK, GUARANTEEING THE BEST PRECISION AND RESULTS
How long will the implant procedure take?
The All-on-4 implant procedure can be done in a single visit. Some candidates may need bone-grafting or other procedures before they can move forward with dental implants. But once you've been cleared, we can give you a new smile in a day! When you arrive at our Tijuana dental office, we'll provide you with local anesthesia or full sedation before we surgically place the implants, which typically takes 2 hours per arch, though it could take more or less, depending on the scope of your treatment. During your consultation, our dental implant specialist will be able to give you a clearer estimate of what to expect for your implant procedure. The healing process does take some time, but your beautiful new smile will be worth the wait.
At My Baja Dental, we offer high quality, same-day, affordable dental implants in Tijuana.  If you're ready to transform your smile and restore your confidence, call (619) 272-9060 to schedule a consultation today.
Complete implant supported "All-on-6" fixed upper and lower